Study Room Reservations
Rules for the study room reservations applicable to TBU staff and students and other users:
You can view the current status of reservations in the calendar; the reservations are updated within the Library opening hours, at 8am.
The reservations are intended for the student computer room to be booked for a particular period of time by a particular person.
Student computer rooms may be reserved from Monday to Friday during Library opening hours.
Reservations must be made a minimum of one day in advance via email mojestudovna@k.utb.cz.
When booking the room via email, please mention the date of reservation, the period of time and the contact person. In the event that you want to book a student computer room at the reservation desk on the 2nd or 3rd floor, please leave your email address there.
Student computer rooms B241 (2nd floor), B341 (3rd floor) and B441 (4td floor) are equipped with a data projector.
The reservation fee is CZK 40 per hour per room. A total of CZK 400 is charged per all-day reservation of a classroom. The payment is made in cash on the 2nd floor.
The minimum length of reservation is 60 minutes.
Exception to the rules may be granted by Director of the Library.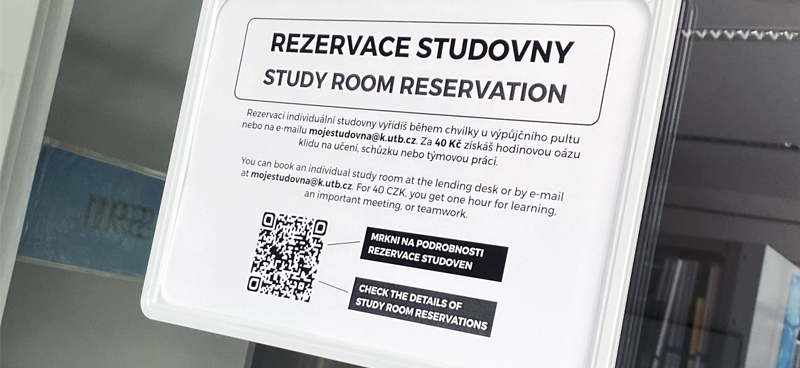 If you need help, don't hesitate to ask our staff: