Newspapers and Journals
Newspapers and journals are available on a subscription basis – the TBU Library has a central subscription to periodicals. Subscriptions are updated once per year. In addition to the acquisition of periodicals for the Library which are stored and used for reference studies in the Library, the Library also organizes subscription and distribution of newspapers and journals to the TBU staff according to their requirements. The subscription to periodicals by the Library is based on the offer of published titles, on the information needs of the University and on the specialization of Library collections. Continuity of all titles is monitored. We do not subscribe to the printed version of international periodicals accessible in full text in some of the subscribed databases.
Current issues of periodicals are on display in the reading room for newspapers and journals on the fourth floor. Back volumes are stored in the archive and are available upon request. You can visit Electronic Journals Portal.
If you need help, don't hesitate to ask our staff:
Acquisition of Newspapers and Journals
E-mail: serialy@k.utb.cz
Tel: +420 576 038 132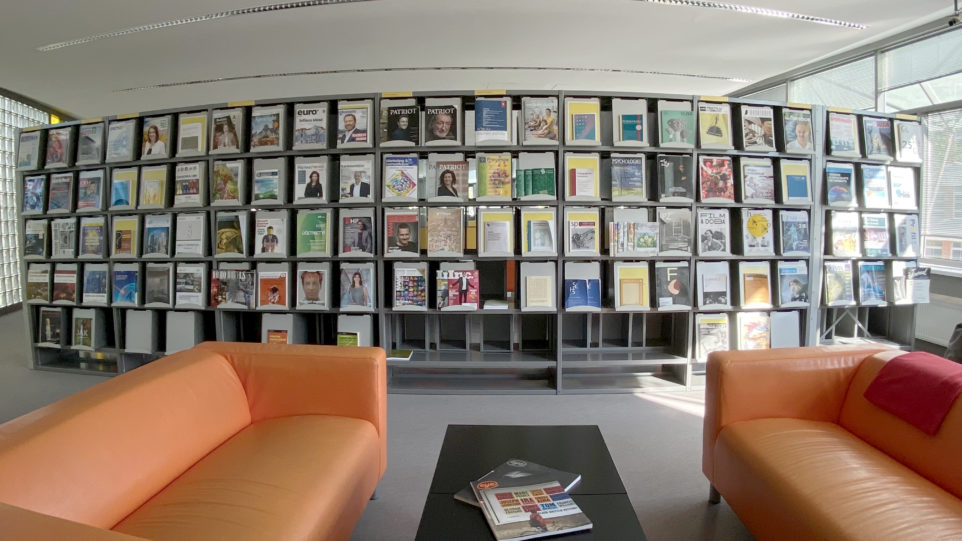 List of newspapers and journals with electronic subscriptions in 2022
Some of journals and newspapers have electronic subscriptions. Access to the online content is possible only from computers in the library.. The staff at the lending or information desk will help you with log in.
1000 řešení
Art & antiques
Daně a účetnictví bez chyb, pokut a penále
D Test
Ekonom
Hospodářské noviny
Lidové noviny
Logistika
MF Dnes
Práce a mzdy
Respekt
Veřejná správa
Zákony I–VI
List of Czech printed newspapers and journals subscribed to by the Library in 2022
1000 řešení
Acta MZLU
Art & antiques
Art of living
Automa
Bankovnictví
CIO business world: IT strategie pro manažery
Cosmopolitan
Československý časopis pro fyziku
D Test
Dějiny a současnost
Dobrodružství personalistiky
Ekonom
Elle
Energie 21
Esquire
Euro: ekonomický týdeník
Film a doba
Filosofický časopis
Finmag
Florence
Forbes
ForMen
Foto & Video
Fotograf
Gastro & hotel
Iluminace
Jemná mechanika a optika
Marketing & Media
Marketing a komunikace
Moderní gynekologie a porodnictví
Moravian journal of literature and film
National Geographic
Oceňování
Pedagogika
Perspektivy kvality
Politická ekonomie
Poradce
Predškolská výchova
Prevence
Pro města a obce
Profi HR
Prostor Zlín
Psychologie dnes
Reportér magazín
Respekt
Retail News
Scientific American (CZ)
Sociální práce
Sociální služby
Sociální studia
Sociologický časopis
Statistika & my
Svět textilu & obuvi
Tělesná výchova a sport mládeže
Travel Digest
Travel Life
Účetnictví
Urbanismus a územní rozvoj
Xantypa
Zdravotnictví a medicína
ZUD, Zlin University Desing
Zvuk pro Zlínský kraj
Živa: časopis přírodnický
List of foreign printed journals subscribed to by the Library in 2022
Ars sutoria
Inc Magazine
Sestra
Spotlight
Vychovávatel