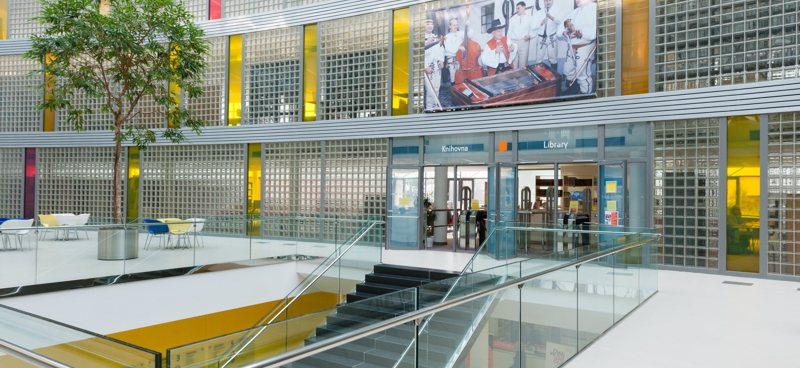 We are online with you! All services and resources in one place
19. March 2020
We've compiled a list of services and resources we're making available for you in this grim situation. You can access everything you might need at the moment from the comfort of your home – library services, services for students writing theses, electronic resources (e-books, e-resources and other materials). There is a lot of it, so make sure you don't miss anything.

I. Library services during the state emergency and emergency measures
Starting Monday, April 20, 2020, we will be lending books from our library again (the library will only work for borrowing ordered books).
Please direct any questions about loans, prolonging loans, returning books or reserved books at knihovna@utb.cz or call 57 603 4805 or 57 603 2889 (students from FLCM can send their questions at studovnaUH@k.utb.cz or call 57 603 8071).
Please direct any questions about Interlibrary Loan (ILL) orders, processing, and pick-ups at mvs@k.utb.czor call 57 603 4904 or 57 603 4804.
II. Library services for students writing theses
We do realize that especially students in their last year of study who are currently working on their bachelor or diploma theses are going through tough times. But don't despair, we're here for you. And as Albus Dumbledore says about Hogwarts: "Help will always be given at Hogwarts to those who ask for it." The same goes for our library. Feel free to write, call, or ask us anything. We will help you if we can. Among online services we have prepared the following for you:
Updated thesis templates are available on the university website. Just choose your faculty and format (we have prepared templates for Word, OpenOffice or LaTeX),
Printing and binding of theses have not been affected. Orders can be placed online via the form on the university press website, including all relevant information (only in Czech; in case of any questions, e-mail us at prodejna@utb.cz or call 57 603 8132).
III. Available electronic resources (e-books, e-resources, etc.)
We managed to make a large number of resources to you online from the comfort of your home. We will keep the list of resources updated.
# Scientific information e-resources (databases)
We currently offer almost a hundred scientific databases containing thousands of articles from reputable scientific journals and e-books. The databases are also available from your home via the Remote Access service at proxy.k.utb.cz.
use your university account to log in via Single Sign-On (Shibboleth)
choose a database you want to search from the list of resources
unless you want to restrict your search to one specific resource, you can use our e-resources search engine directly from our catalogue interface (make sure to log in)
You can check the list of all databases for their descriptions. We currently offer several new resources in Trial Access for you to use in your research:
# Peter Lang E-book collection
The academic publisher Peter Lang specializes in publishing in humanities and social sciences. The Peter Lang platform offers over 10,000 titles published mainly in the arts, humanities and social sciences. 1,800 new books are published every year. The e-books are available at peterlang.com/ebookaccess.
# De Gruyter E-book collection
De Gruyter offers access to more than 24,000 e-books from all disciplines. The books are sorted by subject groups. After selecting the subject group, you can view the books that are licensed for UTB via the "Accessible Content" section. The collection is available at https://www.degruyter.com/.