ProQuest RefWorks

Proquest RefWorks is a new, improved version of RefWorks citation manager. It is an intuitive tool for scientific work and publishing.
This sophisticated web-based tool is used to store, manage and subsequent use of bibliographic records of documents.
RefWorks is a bibliographic manager. Sometimes this kind of software is also called reference or citation manager. These managers are used to store bibliographic records of selected documents on a specific topic. There are multiple ways of getting records into this system. Subsequently you can edit these records, add full text to them, sort them into groups, organize and manage them, create a bibliography from your references or share them with colleagues or students.
What can you do with ProQuest RefWorks?
import of records from scientific databases
grab information from any web page
read full text documents with built-in reader
annotate documments, highlight areas of text
Word and Google Docs add-on for scientific publishing and work with references
export of records to thousands of citation styles
You will fully appreciate RefWorks when writing papers, thanks to a Word add-on called Writen-N-Cite (for Word 2016 or its newer versions it is possible to install RefWorks Citation Manager), or RefWorks add-on for Google Docs.
How to start — create a RefWorks account
---
Information for new users
You can create your own Proquest Refworks account on the website refworks.proquest.com. The registration is possible in two ways. Either creating an account after entering the university email address or through the TBU single sign-on interface (using TBU institutional login, institution's credentials). Due to the possibilities of using the Write-N-Cite tool (when writing texts in MS Word), we recommend to register after entering the university e-mail addresses. In the settings tab is possible to associate your TBU institutional login.
Information for existing users
There is an easy way, how to register and move references from the legacy RefWorks to the new Proquest RefWorks. You can opt to transition to new RefWorks immediately by logging into your legacy RefWorks account and clicking "Move to the newest version of RefWorks" link at the top of the screen.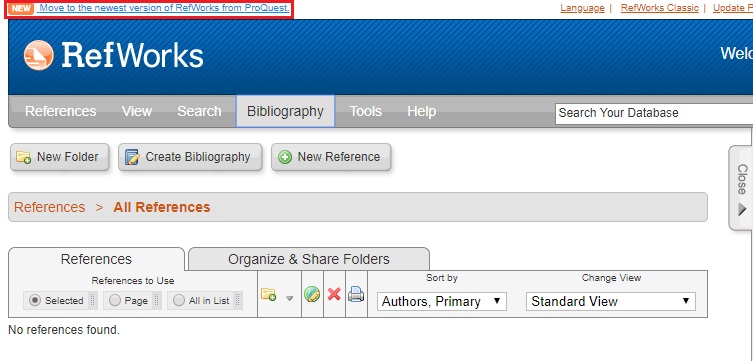 Please, do not forget that these are separate tools with different logins. Papers started in the legacy RefWorks must be imported into the new version of RefWorks. RefWorks will take care of the conversion of your records, just log in to the new version with your university email address. Records can also be converted later or be converted from an account with another email address.
---
Import of records
If you have created your account, you can start importing and adding records. There are multiple ways of getting records into these systems.
Direct export from databases
The fastest and simplest one is direct export from online databases. The videotutorial will show you how to export references from ProQuest database. You will see how easy it is. You can also export the records from our Information Resources Portal. Imported references you can easily organize into folders.
Uploading documents from the computer
Just drag and drop one or more files from your computer. Your document will be analyzed and uploaded and once complete, you can add or edit the meta data.
Save to RefWorks button
The Save to RefWorks browser bookmarklet grabs information (and full text too) from any web page — in some cases a complete article — and adds it to your RefWorks library.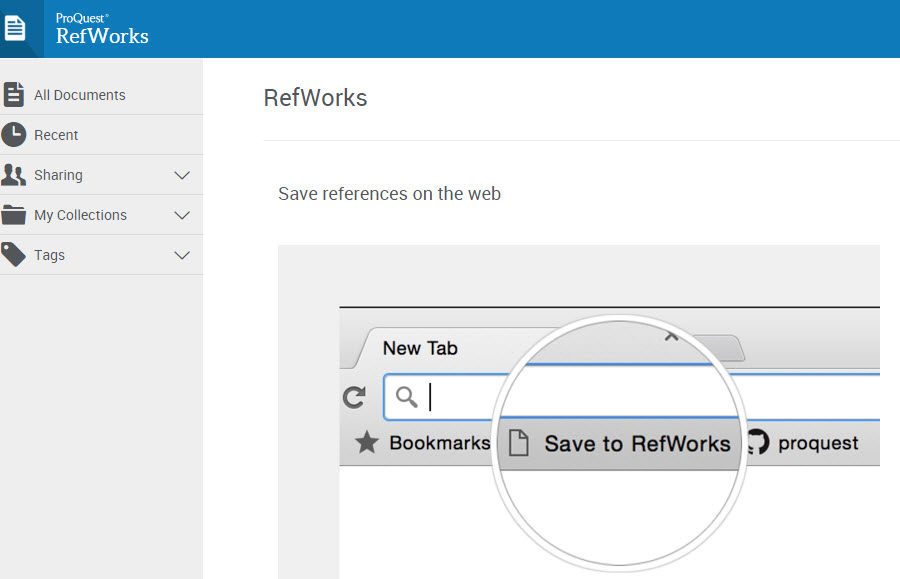 How to get full text of your references
The simples way to link your bibliographic records with full text is through the "Hledej s UTB" button in the reference viewing panel.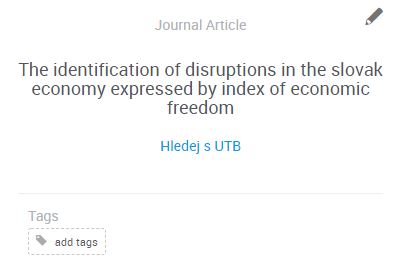 Other Features
If you work with the ProQuest Central database often, you can use the service for direct connection between your "My Research" folder and your RefWorks account. All files stored in My Research folder will be automatically saved into your RefWorks account and all records stored in RefWorks will appear in your My Research folder. For more information, see the ProQuest database Help here.
Something extra
You can use your RefWorks account even after you finish your studies or employment at Tomas Bata University in Zlin. This is possible thanks to the RefWorks Alumni Program, which will be active for as long as our university subscribes to RefWorks.
Help, video tutorials, tutorials
You can find detailed information about the new RefWorks on the ProQuest website, which has also prepared several video tutorials on YouTube.
You may ask questions on this topic at refworks@k.utb.cz.